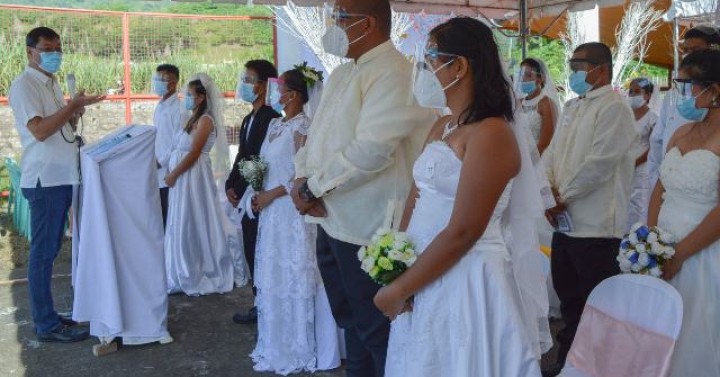 19 couples tie up at NegOcc's mass wedding
[ad_1]
THE CITY OF BACOLOD – Putting on face masks and shields with their matrimonial garments, 19 couples said their "yes" at a mass wedding in San Carlos City, Negros Occidental on Friday.
Mayor Renato Gustilo presided over the ceremony considered to be the first mass wedding in the province this year in Sitio Sto. Niño in Barangay Buluangan amid the coronavirus pandemic.
The couples came from different localities in the village identified as having lived together for some time but did not have the means to legalize their union.
Among those who got married were Ricky Samolde, 46, and Ma. Honorata Samolde, 53, who had lived together for 25 years.
They were married under section 34 of the Philippine Family Code, which states that "No license is required for the marriage of a man and a woman who have lived together as a husband and wife. woman for at least five years and without any legal obstacles. marry each other.
"Guide your children well so they don't fall into a bad influence," Gustilo reminded couples on parenting.
The mass civil wedding was followed by a mass and the reception was sponsored by the local company Ledesma Hermanos Agricultural Corp. (LHAC).
Registration officer IV Reynaldo Nilo Chan from the city's civil registry office said that each couple's documentary requirements cost PHP 550.
Meanwhile, the city of Sipalay is also calling on couples who wish to marry to register and apply for a marriage license for the mass wedding scheduled for February 22, 23 and 24 at the New Government Center.
Before the rites, a pre-nuptial photo shoot and tree planting will take place on February 18. (ANP)
[ad_2]