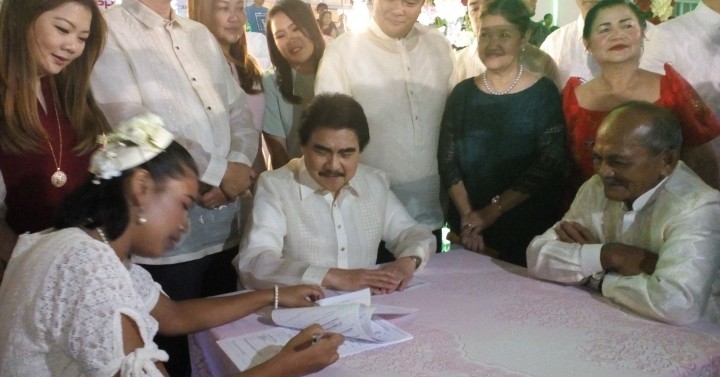 220 Bacolod couples marry in mass wedding rites
THE CITY OF BACOLOD – A total of 220 couples said "yes" in two separate ceremonies dubbed "Kasalan ng Bayan: The Bacolod Mass Wedding 2019" officiated by Mayor Evelio Leonardia over the weekend.
On Sunday, 200 couples tied the knot in an elaborate event held on the grounds of the Bacolod City Government Center from late afternoon until evening.
The day before, Leonardia had also officiated the marriage of 20 couples in Barangay Tacling.
The mayor was joined by city officials, who were the main sponsors, including representative Greg Gasataya and vice mayor El Cid Familiaran, during the Sunday rites.
"We organize mass weddings because we believe that the institution of marriage is the basic unit of society. This is one of the factors that will make the city grow. The family begins with you once you get married and it is the fiber of the company that will allow Bacolod to develop further, "Leonardia told the couples.
During the wedding ceremony, he announced that Davao City Mayor Sara Duterte-Carpio was also one of the main sponsors, who promised to send wedding gifts to the newlyweds.
He added that the senatorial candidates supported by Hugpong ng Pagbabago, chaired by Duterte-Carpio, are also on the list of "ninongs and ninangs" (godfathers and godmothers)
"It's a special mass wedding because your main sponsors are special," the mayor said.
During the symbolic signing of the marriage contract, the couples were represented by the oldest groom, Ricardo Tomayao, 74, and his longtime companion, Glaiza Cosme, 29.
The couple, who have three children, lived together for 15 years before getting married.
Tomayao, a mechanic and former jeepney driver, was a widower with eight children when he met Cosme at the age of 14.
The Sunday wedding rites were also attended by Luis Gonzales, provincial head of the Statistics Authority of the Philippines-Negros Occidental, and city registrar Hermilo Pauyon.
Pauyon said the mass wedding event is an annual activity in the city of Bacolod.
"It is a great help for resident couples, especially those who have children who will be legitimized once married," he added. (ANP)