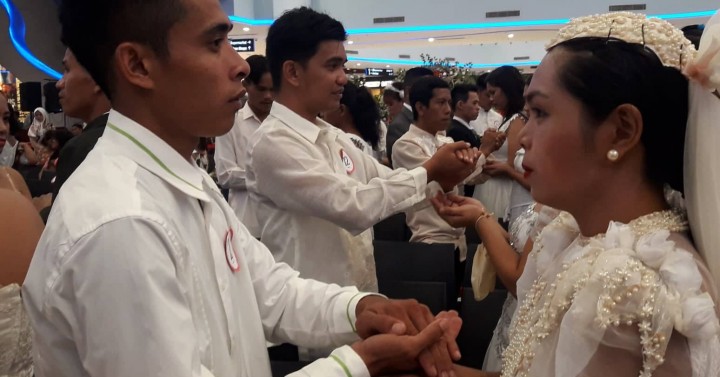 59 couples exchange vows at mass wedding in Iligan City
ILIGAN CITY– Fifty-nine couples exchanged vows on Friday June 14 in a civil wedding ceremony hosted by the local government unit here as part of the city's 69th Charter Day celebration on June 16.
Mayor Celso Regencia, who performed the wedding ceremony, said the annual mass wedding aims to legalize the marriage of couples who have lived together for at least five years.
"From that day on, your partnership has been made in the eyes of the law and you will no longer have problems regarding certain documentary requirements when dealing with the government or when your children go to school," said the mayor. Regencia to couples.
Jocelyn and Leonil Santos, both 39, said they had lived together for nine years. They have three children whose birth certificates are registered under Jocelyn's last name.
The Santos couple said they were unable to get married in church or civil rite for financial reasons.
"We never thought about getting married because the costs are prohibitive. We prefer to spend the money on food and for the needs of our children," said Jocelyn Cebuano.
Registrar Gina Mascariñas said that now that the Delos Santos are married, their children will go through a "legitimization process" that would only take less than a month because the Philippine Family Code has already made it easier.
Mascariñas said the couple only had to submit their marriage contract and the children's birth certificates to their office.
Councilor Ryan Ong, chairman of the city council's family committee, advised couples to "put God at the center of their relationship." (ANP)