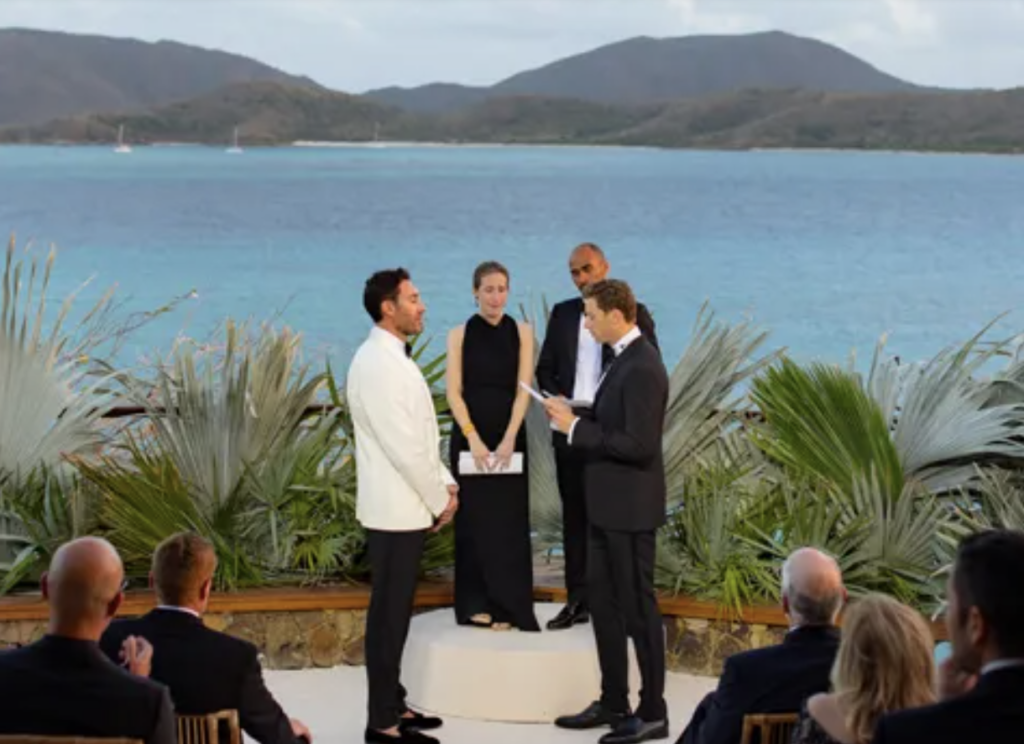 Destination wedding for gay couple on Necker raises eyebrows
A debate has erupted on social media in recent days over whether a gay couple is allowed to legally marry in the territory or if their celebrated nuptials are merely a ceremony.
An article in a recent issue of Vogue magazine about same-sex marriage that took place in May on Necker Island has raised questions about its legality.
The couple – identified as Wesley Vultaggio and Michael McCarty – married in front of a small group of friends and family on the private island owned by Sir Richard Branson.
Vultaggio is the creative director and co-owner of popular US-based iced tea company Arizona Beverages, while his partner McCarty works in biotechnology.
The article praised the couple's wedding fashion and decor choices, but also highlighted the extensive efforts made to make the destination wedding a reality.
The couple reportedly sent three decoration containers to the BVI to organize the affair, which included several beach parties, the wedding ceremony and an after-party.
The wedding, according to Vogue magazine, was a four-day affair that involved lots of festive events, food and music.
How they chose Necker
The couple reportedly wanted an intimate wedding near the beach and, after much research, decided to choose the private islands of Sir Richard, Necker and Moskito in the Virgin Islands.
The year before, Wesley reportedly booked a trip for his 40th birthday to Moskito Island, but due to COVID he had to cancel — so the location was already on the couple's radar.
"We've done deep diving on islands all over the world, from Brando Island in Tahiti to Capri on the Amalfi Coast, but we've always been drawn to Necker," Michael told Vogue.
He added: "We had a few conversations with them and the best dates they could offer us were November 2023 which was too far for us. Three days later they called and said they had a cancellation in May, and did we want it? Obviously, the answer was a "Yes!" resounding.
Their vision for the wedding, the couple said, was to have an unproduced but tastefully decadent weekend with their closest friends and family – much like the ultimate tropical vacation that also happens to be a wedding.
The wedding is said to have featured local bands and a gospel choir and it has been reported that the couple's two friends – Elena Scott and Todd Hawkins – officiated the ceremony.
"Our wedding was the wedding of the century," Michael told Vogue. "I thought I would go back and do it all over again, but it was so perfect, and Wes and I had some unforgettable times. It was the best kickoff to our lives together.
Same-sex marriage – which is currently illegal in the BVI – has been a notoriously controversial topic in the territory, but the issue has seen a resurgence lately after a British peer recently. tabled a bill in the House of Lords legalize same-sex marriage for all British Overseas Territories in the Caribbean.
Copyright 2022 BVI News, Media Expressions Limited. All rights reserved. This material may not be published, broadcast, rewritten or distributed.