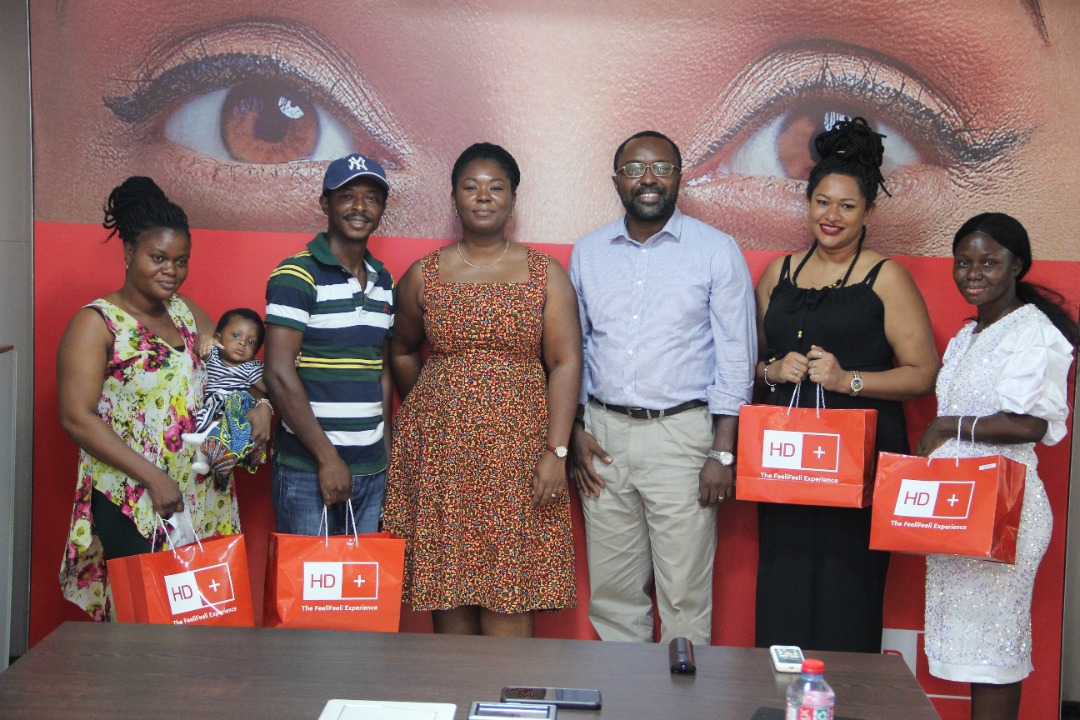 HD+ Brings "FeeliFeeli Experience" to Happy Mass Wedding 2022
HD+, in partnership with Happy 98.9 FM, will provide 2022 mass wedding couples with an unforgettable High Definition (HD) television experience as part of their set-up for a successful marriage.
A move is an HD+ way to ensure married couples and their children enjoy their favorite shows in high-quality images to enhance families' experience when watching TV together.
"By watching a favorite show together, couples create a shared social experience that brings couples closer together. However, when each individual has their own favorite show, there's bound to be a 'fight' over the remote, right?
"Not so our Mass Wedding couples because with the HD+ service they can pause live TV, record their favorite shows and catch up when they have time," said SES HD CEO MORE GH, Theodore Asampong.
He listed all the benefits of HD+ service when mass wedding couples paid a courtesy visit to HD+ management and staff.
"HD+ isn't just about you watching your HDTV, you're part of the action. Because HD+ is family oriented, we have stations for children and adults in addition to the favorite local channels that already exist in Ghana.
"Subscribers can now watch their favorite local channels in HD. Additionally, other foreign channels such as Aljazeera have recently been added.
"We also have the MY HD Plus app which once downloaded allows you to watch TV on the go on your Android or IOS mobile phone with free data every month from HD+," he revealed.
He also shared some life experiences with the couples to guide them on their marital journey.
"Communication is the key to a successful marriage. As couples, you have to decide that the night will not trigger your anger and also forgive each other easily when needed," Mr Asampong said.
He added, however, that HD+ is an ideal companion for married couples.
"The Feelifeeli experience enhances love, no fight for the remote because you can pause and record," he said.
The 16th edition of Mass Wedding is scheduled for February 14 at Wan-Shi Gardens.