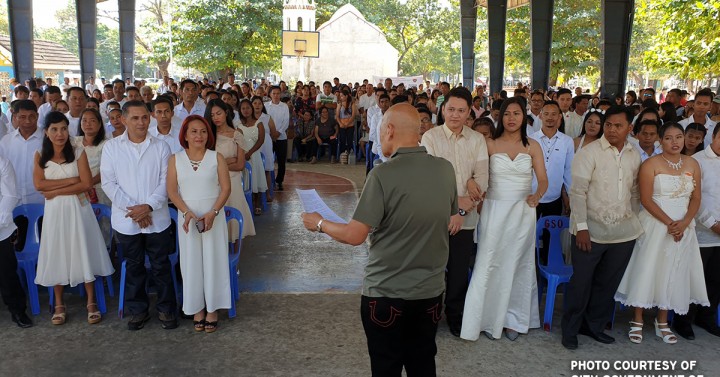 Mass wedding galore in Cavite on Valentine's Day
NOVELETA, Cavite – Hundreds of unmarried couples, many of whom have lived together for years, can finally get married on the most auspicious day, Valentine's Day, thanks to the efforts of local government officials in Cavite.
In this city, Mayor Dino Reyes Chua, will seal the deal by officiating Thursday civil wedding ceremonies at the recently upgraded Long Beach Resort in Barangay San Rafael IV.
Chua said that in addition to hosting the mass wedding on the beach, the local government would also take care of the reception, bouquet of flowers, wedding cakes and keepsakes for the bride and groom.
The mayor himself along with vice mayor Donnie Torres, councilor Davey Chua and other city councilors will be the godparents of all couples.
In the nearby town of Rosario, Mayor Voltaire Ricafrente and his father Deputy Mayor Nonong Ricafrente will also lead the annual mass wedding at the famous public seaside run by the local government "La Isla Bonita de Salinas Resort" early in the morning of Valentine's day.
Due to tradition, "seaside-style" wedding rites will see wedding entourages in dramatic processions with some couples arriving aboard colorful bancas while others aboard tricycles.
Meanwhile, the Mayor Elpidio Barzaga Jr. of the city of Dasmariñas and his wife Cavite (1st district) representative Jenny Barzaga will themselves celebrate the marriage of around 500 couples on the campus of the Dasmariñas National High School.
Once the knots have been tied, the newlyweds must enter a contest for the "Best in Attire" for a chance to win money that they can use on their honeymoon.
The best dressed couples will win PHP 10,000 in cash, PHP 5,000 as second prize and PHP 3,000 for third prize.
Meanwhile, in the nearby town of Bacoor, Mayor Lani Mercado Revilla will be both "ninang" (godmother) and officiating with the hundreds of couples who will exchange "I do" in front of sympathizers made up of family members. as well as city councilors and city hall employees, in civil ceremonies at the Bacoor Government Center Strike Gym, also on February 14.
"Kasalang Bayan" is also an annual tradition in this city as part of the campaign by local authorities to legitimize the so-called "unions of convenience" of usually cash-strapped couples.
Not to be outdone, the city of Tagaytay, the popular destination of the highlands of Cavite during the "Month of love", will organize its "Pista ng Pag-ibig" (Feast of love) in honor of the patron saint of the city, "Our mother of beautiful love".
The city's mayor, Agnes Tolentino, and her husband, Cavite (7th district), representing Abraham Tolentino, are expected to lead the celebration of Valentine's Day, which will also include the "Kasalang Bayan" (mass wedding) of some 45 couples. at Sigtuna Hall, Tagaytay International Convention Center. (Dennis Abrina / ANP)