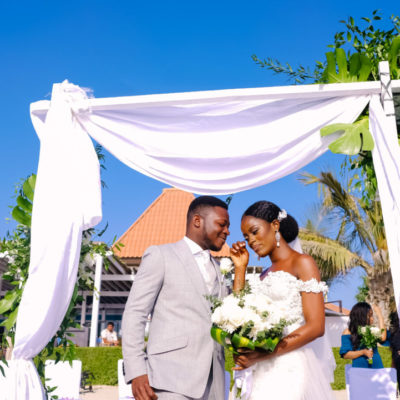 Torera becomes real by hosting a destination wedding on a budget!
Destination weddings are the new dream of most couples. Consider having an exquisite wedding ceremony on a beautiful island with your family and friends. Somewhere right now, a couple is jumping on a plane, boat, or helicopter for their wedding at a different location.
As beautiful as it sounds, the cost of destination weddings can be quite high. But hey, that doesn't mean you can't have the perfect destination wedding on a low budget. Before giving up on the idea of ​​hosting a destination wedding on a low budget Torera of DIYDose and her husband share on 'How they had a wedding to Dubai on a budget ".
"Dubai has a lot of special memories for us because it was the first place we visited together during our courtship show. We knew we wanted something intimate but it had to be on a budget!
According to Torera, "In order to help other people who are planning a destination wedding, we have filmed this video detailing exactly how we saved the money and also disclosed exactly how much we spent. Talk about spending £ 12,000 at the total for a great ceremony which we loved. Yes I know you can get the wedding of your dreams even for much less.
Learn about the pros and cons of planning a destination wedding on a budget in this video.
Credit
Video: @diydose